A trailblazing maverick, Ralph Steadman's art defined the 1970s counterculture. He joins Will Self to tell the story of his life in ink, from his Welsh childhood to the invention of Gonzo with Hunter S. Thompson.
He is one of the most revered and provocative artists the British Isles have ever produced: an icon whose splattered-ink style instantly evokes the wild libertine spirit of rock'n'roll, Rolling Stone and Gonzo journalism.
In conversation with novelist, journalist and broadcaster Will Self, whose newspaper columns Ralph illustrated, he'll explore the legend of his life to date: from being maced by Hunter S. Thompson in a Kentucky gentleman's club to writing songs for Johnny Depp; and from the brutality of corporal punishment in a WWII grammar school to being banned for obscenity in the USA.
On the eve of the launch of his major retrospective book A Life in Ink, don't miss this chance to dive into the gonzo life and times of one of our most important, influential and iconoclastic living artists.
The event takes place at 6:30pm GMT and includes access to a replay video available 48 hours after the event to enjoy with no time limit.
This livestream event is available either as a livestream-only ticket or as a book & ticket offer. The first twenty people to buy a 'book & ticket' will receive a print of Ralph's artwork Viral Menace, created during the first few weeks of the lockdown. [PLEASE NOTE: THE VIRAL MENACE IS NOW SOLD OUT.]

The artwork was made using Ralph's "dirty water technique", which he pioneered during his collaboration "Critical Critters" with Ceri Levy. To achieve the 'dirty water technique' Ralph pours the water that he had washed his brushes and pens in, on a waiting sheet of A1 paper. He adds splats of ink and paint and leaves it to dry for 3 days. When he comes back to it, the dirty water, paint and ink has dried leaving textures and forms that suggest something to him that he then pulls out of the mess.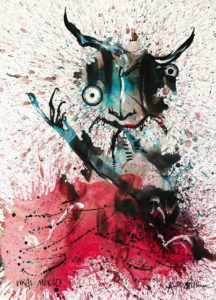 © Ralph Steadman Art Collection
Ralph Steadman headshot photography credit Rikard Österlund, www.rikard.co.uk
Ralph Steadman: A Life in Ink out 10th November.