Your life is an extraordinary and unique story that deserves to be set to paper. But writing that story need not be the project of a lifetime.
'I apologise for such a long letter – I didn't have time to write a short one' – Mark Twain
'All books are too long; no book is too short' – Jules Renard
Join us in the heart of Spain this Spring for a writer's retreat with a twist.
Based on the premise that most manuscripts, once begun, are left in a drawer unfinished, and inspired by John Aubrey's classic Brief Lives, our March writing retreat will focus on brevity: writing a life – your own or that of someone else – as a story or essay.
Under the tutelage of Frances Wilson, the award-winning biographer of DH Lawrence and Thomas de Quincey, you will discover how to distil a lifetime's experience to a page or even a paragraph. You will learn how to capture character and place in a few choice words, and to construct a sentence which contains the tension of a novel. And because you will be writing less rather than more, you will leave with something finished to show for your labours: we will publish your finished work in a specially produced anthology.
Set in hundreds of acres of orange and olive groves, the 16th century house of Trasierra is both a magnificent estate and fertile ground for discovering your authorial voice. After spying the crumbling monastery from the Sierra Morena Hills in the late 1970s, Charlotte Scott spent the past four decades restoring the complex of buildings. The result of her devotion is a rare achievement; a hotel that feels like home.
Surrounded by the rare beauty of untouched Spain, you'll be able to think and write under the shade of grape vines or nestled amongst the agapanthus. Described by past attendees as a place that "lifts the soul", Trasierra is an unrivalled spot for nurturing creativity.
Here, you will be guided in morning lectures through the building blocks of economic life-writing. The afternoons will be reserved for your own writing and in the evening, over a glass of wine, you will be able to share your work and ideas. The day will end with the best food and wine the Mediterranean has to offer, beneath a star-filled sky.
With only 12 spots available, you will leave this exclusive writing course having received first-class teaching in a small and encouraging group. Rooms are offered on a first-come-first-served basis with a special offer for the first 6 places. Writers of every level are welcome. Participants will be sent a suggested reading list beforehand.
Testimonials from Previous Attendees:
"I think if I had had Frances as a teacher, I would have a few Booker Prizes on my mantelpiece right now. She's so insightful it's uncanny, goes straight to the essence of a piece and can articulate her thoughts brilliantly. Not only do I write differently now, I read differently too. Magic."
"I am indebted to Frances. She is an intellectual force of nature and extremely generous with her teachings.  I left knowing what next steps to take and am feeling extremely excited to commit to exploring this writing journey."
"The whole trip was nothing short of transformational."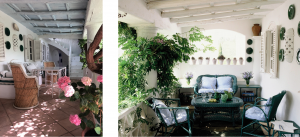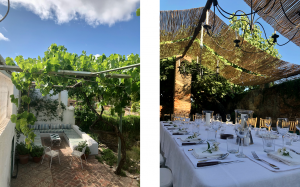 The Itinerary
Thursday 23rd March
Drinks, welcome dinner, settling in.
Friday 24th March
Less is More
'To see the world in a grain of sand
And heaven in a wild flower' – William Blake
Good writing is about what you leave out rather than what you put it. Looking at examples of micro-biographies, prose poems, parables, obituaries, Who's Who and Dictionary of National Biography entries, we will explore the idea of what to put in and what to leave out of a life story. How can three score years and ten be boiled down to its essentials?
Saturday 25th March
Voice and Character
'He was a cheerful, corpulent, chuckling gentleman, well-dressed in brown suits and double martinis' – Elizabeth Hardwick of Edmund Wilson.
In a memoir the voice of the narrator is the central character, and in a biography we need to catch and interpret the voice of the subject. But how do we 'hear' a written voice, and how do we manipulate and control our own voice? And how can we nail character – our own or that of someone else – in a few choice words?
Sunday 26th March
Genius loci
'The moment I saw the brilliant, proud morning shine up over the deserts of Santa Fe, something stood still in my soul, and I started to attend' – D H Lawrence
Writing a description of a place is not the same as capturing the spirit of that place. A description is what we find in a brochure or guide book, but the spirit of a place is its intangible quality, or magic. In this lecture we will explore ways of transporting your reader without resorting to cliché or the language of tourist boards.  
Monday 27th March
I remember, I remember
'I have no childhood memories' – Georges Perec, W: Or, a Memory of Childhood
Having a good memory doesn't mean that you will write a good memoir. Memoir is about how rather than what we remember, and today's lecture will focus on the differences between episodic and narrative memory and the ways in which a single memory can capture the story of a life.
Tuesday 28th March
Breakfast and goodbyes.