Join us in the enchanting sixteenth-century house of Trasierra and learn how to tell your story in this retreat with award-winning biographer Frances Wilson.
'The story of a life is a very informal party; there are no rules of precedence and hospitality, no invitations' – Muriel Spark, Loitering with Intent
'I apologise for such a long letter – I didn't have time to write a short one' – Mark Twain
Your life is an extraordinary and unique story that deserves to be set to paper. But writing that story need not be the project of a lifetime.
Based on the premise that the best memoirs are concise, candid and captivating, the Trasierra Memoir Club offers a five-day masterclass in clarity, integrity and brevity.
Under the tutelage of Frances Wilson, the award-winning biographer of DH Lawrence and Thomas de Quincey, you will discover how to distil a lifetime's experience to a page or even a paragraph. You will learn how to capture character and place in a few choice words, and to construct a sentence which contains the tension of a novel.
Whether you want to write a memoir to make sense of past events and relationships, grow in self-knowledge, publish a record of your life for posterity, or share your story with your children and grandchildren, you will leave this course with the skills to complete a manuscript you can be proud of.
In the mornings we will explore the mechanisms of memoir-writing – distilling a lifetime's experience to a page or a paragraph, capturing the essence of a place or character, constructing what Ernest Hemingway called that 'one true sentence'. The afternoons will be reserved for your own writing and in the evening, over a glass of wine, we will share our work. The day will end with the best food the Mediterranean has to offer, beneath a star-filled sky.
With only 12 spots available, you will leave this exclusive writing course having received first-class teaching in a small and encouraging group. Writers of every level are welcome, including returning participants – as are partners, friends and companions.
In addition to relaxing by the pool and catching a quiet moment under the shade of the grape vines, non-participants will be free to walk in the stunning Sierra Morena mountain. Our team are also more than happy to organise visits to local Andalusian basket weavers, a trip to the great UNESCO registered Mezquita-Catedral in Córdoba and sherry tastings in Jerez. Described by past attendees as a place that "lifts the soul", Trasierra is the perfect site for all to enjoy the rare beauty of untouched Spain.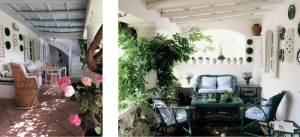 The House of Trasierra
Set in hundreds of acres of orange and olive groves, the sixeteenth-century house of Trasierra is both a magnificent estate and fertile ground for discovering your authorial voice. After spying the crumbling monastery from the Sierra Morena Hills in the late 1970s, Charlotte Scott spent the past four decades restoring the complex of buildings. The result of her devotion is a rare achievement; a hotel that feels like home.

Testimonials from Previous Attendees:
"I think if I had had Frances as a teacher, I would have a few Booker Prizes on my mantelpiece right now. She's so insightful it's uncanny, goes straight to the essence of a piece and can articulate her thoughts brilliantly. Not only do I write differently now, I read differently too. Magic."
"I am indebted to Frances. She is an intellectual force of nature and extremely generous with her teachings.  I left knowing what next steps to take and am feeling extremely excited to commit to exploring this writing journey."
"The whole trip was nothing short of transformational."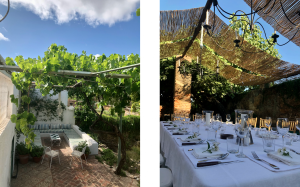 The Itinerary:
Thursday
Drinks, welcome dinner, settling in.
Friday
Fact or Fiction?
Memoirs are true, but they are not affidavits. To explore a deeper truth, many memoirists write fictionalised versions of their lives, while fiction writers might base their novels on true experiences. This first session will explore the differences between fictionalised autobiography and autobiographical fiction, as well as looking at the other forms  – essays, poems, scrapbooks – that your story can take.
Saturday
Voice and Character
In a memoir the voice of the narrator is the central character. It is your voice that keeps the reader glued to the page, or that makes us want to throw the book out of the window. What is the difference between our spoken and written voices; and how do we find the best voice for the tale we have to tell? 
Sunday
Genius loci
Writing a description of a place is not the same as capturing the spirit of that place. A description is what we find in a brochure or guide book, but the spirit of a place is its intangible quality, or magic.   In this lecture we will explore ways of transporting your reader without resorting to cliché or the language of tourist boards.  
Monday
I remember, I remember
Having a good memory doesn't mean that you will write a good memoir: many memoirists have no memory at all. Memoir is about how rather than what we remember, and today's lecture will focus on the differences between episodic and narrative memory and the ways in which a single memory can capture the story of a life.
Tuesday
Breakfast and checkout.
Reading List:
The only books it is essential to read in advance are Loitering with Intent, by Muriel Spark and The English Understand Wool, by Helen Dewitt. Both are brief, candid, and wildly entertaining. For those who would like to do more preparation, the following will be referred to on the course:
The Ballad of Dorothy Wordsworth, Frances Wilson
How to Survive the Titanic, Frances Wilson
Toast, Nigel Slater
Madame Depardieu and the Beautiful Strangers, Antonia Quirk
Flush, Virginia Woolf
Eminent Victorians, Lytton Strachey